Are You Living in a Restrictive Box called Marriage?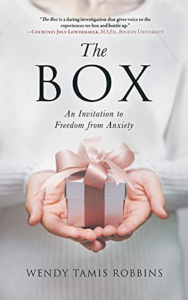 Episode 190 THE Amicable Divorce Expert:  OVERCOMING DEHIBILITATING ANXIETY w/Wendy Tamis Robbins, Esq., Author of The Box, Speaker, Podcast Host of Perfectly Panicked
Listen Here: https://judyweigle.podbean.com/e/overcoming-dehibilitating-anxiety-wwendy-tamis-robbins-esq-author-of-the-box-speaker-podcast-host-of-perfectly-panicked/ 
Wendy Tamis Robbins, Esq. suffered from anxiety in childhood that continues into her adult life. Wendy will share what it was like going through anxiety and panic attacks as a child, through a law career, a first marriage, with the journey she describes in her book The Box, and in her second marriage.
The way people are raised, the type of household people are raised in, and the health of the relationship of the parents helps create the health of their children. So was the case with Wendy Tamis Robbins. She created a world that went inward in order to avoid the volatility she saw with her parents. Wendy grew up in an emotionally and physically uncertain world that led to her anxiety and panic attacks.
Not everyone reacts in the same way, but Wendy had a severe reaction to her parents' relationship. If not anxiety and panic attacks, the ability to form authentic relationships can be a consequence of people's upbringing and their parents' relationship.
There is a difference between anxiety and panic attacks. Anxiety is an emotional reaction to fear and panic attacks are a physical manifestation of anxiety. Both are debilitating.
Divorce can be an agent for panic attacks and anxiety. When people are going through the divorce process, attempting to make legal decisions while grieving the loss of the marriage, emotions build to a point that prevent people from moving forward. If both spouses are trying to make legal decisions while grieving, this is a recipe for disaster.
Sorting out why the marriage didn't work is necessary in order to understand how to divorce, and then how to remarry. There is a grieving process that most people experience. There are trigger points within the grieving process that bring up emotions.
The Box, the book authored by Robbins, is a great metaphor for general anxiety and how it limits a person's life, as well as for the feeling someone may have of being trapped in a loveless, powerless, and restrictive marriage.  
It's fascinating, though, that people fight for loveless marriages. I think because people take marriage seriously; view divorce as a failure; resist admitting if maybe they did something that caused the breach in the relationship; or may be embarrassed to be divorced. At a certain point reality sets in and in order to get out of the marriage box the marriage has to go, to be broken open and the air of a new life let in. With new life comes hope, happiness, and a new future rich with unbelievable possibilities. 
#anxiety #panicattacks #wendytamisrobbins #theBox #mentalhealth #divorce #fallinginlove #authenticity #vulnerability #trust #fear #failedmarriage #step-mom #relationships #communication #panicdisorders #love #marriage #emotionalbarriers #drbrenebrown #brenebrown #shame #unlovable #abandonment #JudithWeigle #TheAmicableDivorceExpert #podcast #divorcepodcast #amicabledivorce #intuition