DIVORCE IS A NEW BEGINNING
OUR COMMITMENT: COMPASSIONATE SERVICE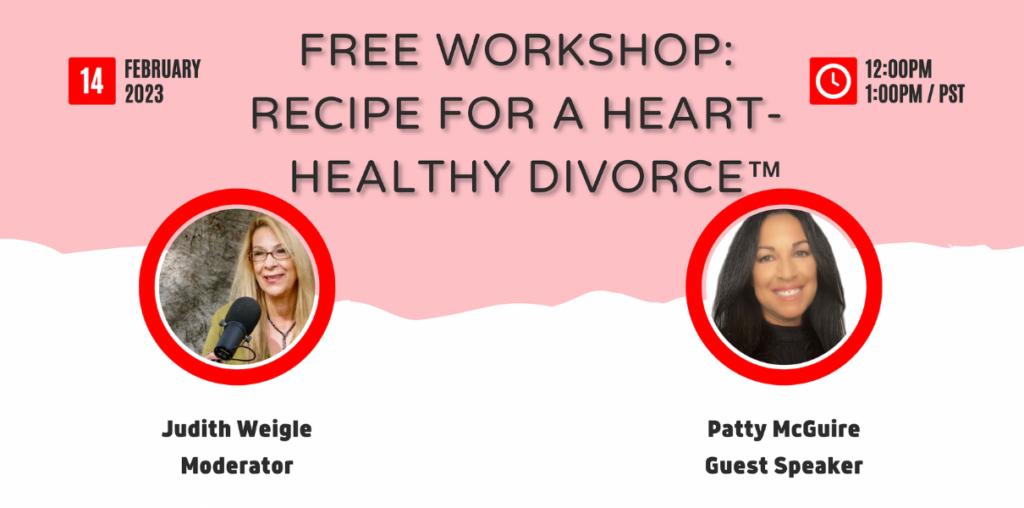 Take Control of Your Divorce with Our Free Workshop - 2/14/23 - 12 pm
Are you facing a divorce and feeling overwhelmed? Take control of the situation with our FREE Recipe For A Heart-Healthy Divorce Workshop! Our experts will teach you key skills to help you navigate the divorce process. Learn how to settle the emotional divorce before negotiating legal one. Lawyer-up vs lawyer-down, develop conflict communication skills, and the importance of self-care. Live interaction with industry professionals makes this workshop a must for anyone going through a divorce. Join us on Feb. 14 at 12:00pm / NOON/ PST
Register on the link below:
Divorce and Communication Coaching
Coaching is a service that sits between therapy and legal advice and can guide you through time management of the divorce filing. 
A Divorce Coach can help  you understand how the legal system works so that you use the services of your attorney wisely and keep costs down.
A Divorce Coach can help with communication techniques with your spouse, essential for keeping emotions and the cost of divorce, both emotionally and financially at a minimum.
Mediation & Court Filings
We Are Mediators
We Facilitate Communication Between The Parties When They Hit A Roadblock In Any Part Of Their Separation, Divorce, Or Paternity Negotiations.
We Don't Take Sides
We Don't Render Decisions For You
We Help You Decide What Is Best For Your Situation By Engaging Conversation In A More Creative Way Than The Parties Can Do On Their Own
WE FILE COURT DOCUMENTS FOR:
Divorce
Legal Separation
Paternity
Domestic Partnership
Child & Spousal Support Modification
Requests For Order
80% of divorce and legal separation cases are settled out of court.
The sooner the parties mutually decide what they want from each other the less legal fees they will pay
and the less emotional stress each person will feel.
Knowing that your decisions primarily rest in your hands, isn't it cost effective to skip the fighting and get to deciding?
We work by appointment only, with a $175 cancellation fee
Every person will receive a Free 20 minute phone consultation!