How Can Mom Afford to Keep the House? with Mona Elhalwagy, JD, NMLS #663069, Mortgage Broker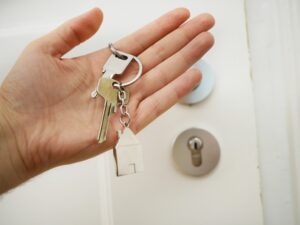 https://judyweigle.podbean.com/e/how-can-mom-afford-to-keep-the-house-with-mona-elhalwagy-jd-nmls-663069-mortgage-broker/ 
On Episode 180 of THE Amicable Divorce Expert podcast we interviewed Mona Elhalwagy, JD, NMLS: 663069 is a mortgage broker with Forbix. Mona lays out the formulas to use to provide a mortgage for Moms especially, if Mom is the lower wage earner and wants to keep the house. 
What does a mortgage broker do? Brokers go to mortgage companies to find funding. These mortgage companies do not promote themselves to the public, just to mortgage brokers.
We discuss a number of different situations to help Mom get a mortgage, or refinance the mortgage in her name solely.
1. Mom reenters the workforce to qualify.
2. Mom takes in renters.
3. Mom gets significant financial assets in the divorce settlement enough to get a mortgage.
4. Mom receives child and spousal support.
Here is the guideline: 
In order for alimony or child support to be considered as acceptable stable, income, it must continue for at least three years after the date of the mortgage application. To be considered stable income, full, regular, and timely payments must have been received for six months or longer.
Income received for less than six months is considered unstable and may not be used to qualify the borrower for the mortgage.
How much to qualify for a $300k loan? Assuming the following: 
$600k value
Good credit score
A car payment of $250, $100 for property insurance, $400 in property taxes and a 3.875% rate
Need to make about $4400 a month

 

Lenders want to make sure that the mortgage and minimum monthly debt is less than 50% of the gross income

 
Niche products 
Asset depletion 
Asset Depletion is a method of calculating a monthly income stream based on a borrower's assets
In general, Checking accounts, savings accounts, mutual funds, bonds, trusts, public stocks, CDs, cash value of life insurance and retirement assets are eligible.
Different lenders use different formulas to convert the assets into monthly income. Some will take the assets and divide the by 84 months. Others use an amortization schedule based on the client's age.
For example, if a client has $1 million of assets/ 84 months, that equals about $11,900 of monthly income and the assets can stay in the account.

 
Alternatives for self-employed clients
12 months Bank statements – flexibility in using personal or business statements 
Pure stated income for owner occupied homes 
Only use the equity in the property. Rate is generally higher, but interest only is available.

 

Very few lenders have this product because most lenders need to show an "ability to repay" when it's an owner occupied home. This is a good alternative to private money loans.

 
Stated income loans for investment properties
If the community has investment property, it is generally easier to qualify for investment property because lenders can look to the rents received to qualify the client for the loan
Have a product where the rents just need to cover the mortgage, taxes and insurance payments. Interest only payments are also available.
How lenders look at income 
Alimony or child support 
In order for alimony or child support to be considered as acceptable stable, income, it must continue for at least three years after the date of the mortgage application. We will accept as verification that alimony or child support will continue to be paid with a copy of the divorce decree, or separation agreement if the divorce is not final
Document no less than six months of the borrower's most recent regular receipt of the full payment.
This is good to know in terms of structuring support. For example, if support will continue for 5 years at a higher amount, perhaps structure the settlement so that it continues at a higher amount for 3 years, if possible. 
Reentering workforce
A minimum history of two years of employment income is recommended. However, income that has been received for a shorter period of time may be considered as acceptable income, as long as the borrower's employment profile demonstrates that there are positive factors to reasonably offset the shorter income history.